Extension of the site administrator function with location restriction also in the schedule
The Site Administrator function allows you to restrict the view of an admin user. After a request Cargoclix will add the setting. In the admin area the site administrator will then see only the site relevant to him – there can also be more than one. This way the CargoMarkets with several locations get the assurance that the admins only see what they need. This makes navigation easier and configuration errors can be avoided.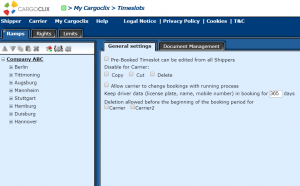 What's new about this function is that – in addition to the admin area – the site administrator is also automatically restricted in the schedule and in the administration of user groups. Thus a user can only load his location in the schedule and only manage the user groups that have ramps at his location. Furthermore the new function also eliminates the need to restrict the view of a site administrator in the schedule using additional settings.