Resopal Opts for SLOT
Resopal GmbH has recently started using the SLOT time window management system from Cargoclix for ramp management at its company headquarters in Groß-Umstadt. With the help of the cloud-based tool, up to 20 trucks can be unloaded jam-free each day at goods receipt. Logistics service providers can book timeslots up to 120 days in advance. Last minute bookings are possible until twelve noon the day before. Each booking costs 50 cents. The costs are borne by the logistics service providers.
Resopal GmbH produces laminates with functional and decorative surfaces in Groß-Umstadt. The products can be found in the ICE, in cruise ships, in interior fittings and on exterior facades, in wet rooms, laboratories and on furniture. Consumers associate the name with 1950s design: kidney-shaped table, kitchen or breakfast board. Because of the brand's high profile, the company founded in 1867, H. Römmler AG, which Resopal invented and manufactured, was renamed accordingly in 1971. Since 1998 the company, which today employs around 500 people, has belonged to the Texan company Wilsonart.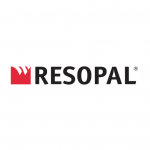 *Cargoclix SLOT. Timeslot and Yard management
Cargoclix SLOT optimizes processes and personnel deployment at the ramp. It prevents waiting times and workload peaks at loading and unloading points. Our Timeslot management system provides also transparency for all pictured logistics processes. Therefore it is the best solution for industry, trade, logistics service providers and transport companies.