Sanitary Engineering Eisenberg Relies on SLOT
For ramp management at its headquarters in Eisenberg, Sanitärtechnik Eisenberg has introduced the time slot management system SLOT by Cargoclix. With the help of the cloud-based tool, up to 50 trucks a day are now unloaded there in the goods receiving area without waiting times. Logistics service providers can book the time slots with a lead time of ten days, last-minute bookings are still possible until 12 noon the day before. The costs of 50 cents per booking are borne by the logistics service providers.
Sanitärtechnik Eisenberg, SANIT for short, is a company in the international sanitary industry and sells, among other things, drain fittings, WC accessories, bathroom fittings and swimming pool gratings. SANIT belongs to the Belgian industrial group Aliaxis.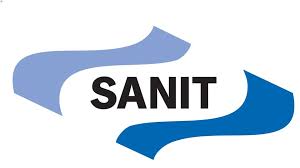 *Cargoclix SLOT. Timeslot and Yard management
Cargoclix SLOT optimizes processes and personnel deployment at the ramp. It prevents waiting times and workload peaks at loading and unloading points. Our Timeslot management system provides also transparency for all pictured logistics processes. Therefore it is the best solution for industry, trade, logistics service providers and transport companies.