SLOT now also Available in Spanish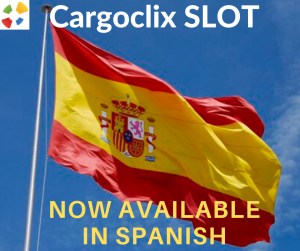 New language for SLOT users: The user interface of the time slot management system of Cargoclix is now also available in Spanish. Spain is considered an important hub for the transport of goods and an up-and-coming international logistics location. In order to simplify the logistical everyday life for users of the cloud-based software from the country with more than 47 million inhabitants, Cargoclix has translated the user interface, so that all functions are now available in a Spanish version.
*Cargoclix SLOT. Timeslot and Yard management
Cargoclix SLOT optimizes processes and personnel deployment at the ramp. It prevents waiting times and workload peaks at loading and unloading points. Our Timeslot management system provides also transparency for all pictured logistics processes. Therefore it is the best solution for industry, trade, logistics service providers and transport companies.